Free Shipping
Free 2-4 day Shipping on orders over $65.
Grapplesnake Strings. Available NOW!
Welcome to Grapplesnake USA. We are a German polyester tennis string manufacturer. Our products are made with the highest quality materials and processes, and we are always determined on bringing players innovative formulas, such as our dual-polyester hybrids, and differently shaped strings.
We are currently sponsoring more than a dozen professional athletes in Europe, and we are excited about helping players in the United States achieve their goals. 
We also offer:
- Special deals for High Volume Pro Stringers, Clubs and Academies.
- Discounts and Sponsorships for Pro players.
Check out our string selection, and don't forget we offer FREE 2-5 BUSINESS DAYS GROUND SHIPPING on orders over $65. If you have any questions, don't hesitate to send us an e-mail at grapplesnakestringsusa@gmail.com and don't forget to follow us on Facebook and Instagram for product updates and sales.
Latest News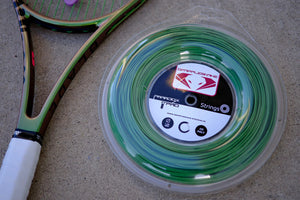 As of 09/08/2023: Labels! So many labels! Paradox is finally fully released as of today. Sets and150m reels, 1.26 mm and 1.29 mm. Thanks for your patience!   As of...