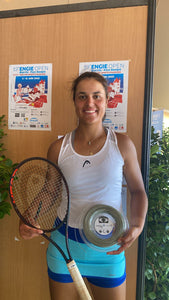 AMAZING! Mina Hodzic, a Grapplesnake sponsored athlete, has just won the Open de Biarritz, aka Engie Open Biarritz, a 60k outdoor clay tournament in France! On her way to victory, she upset players such as Chloe Paquet (WTA 101), Maria Carle (WTA 156), Emiliana Arango (WTA 247), and Lucie Nguyen Tan (WTA 396).  Mina plays with Tour M8, and she is 20 years old! WOW. Congratulations, Mina! We are incredibly proud of you!  
---

TennCom is a super informative, funny and interesting tennis community from Canada. Active in YouTube, Instagram and in their website, https://TennCom.media, they provide quality written and video content. Beckett and Simon have great chemistry, which makes their videos a joy to watch. We recommend checking them out! We are happy to see that they are also Grapplesnake fans, and here is their review on Tour Sniper.  Excerpt: "Grapplesnake Tour Sniper feels like an evolved version of Hyper-G. It retains excellent all-around performance while offering the crisp, responsive feel necessary to maintain control. The silver colour of the polyester signals a...
---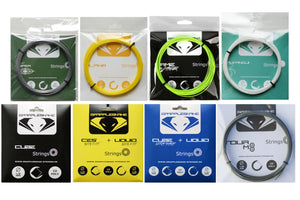 We have updated our popular Sampler Pack to now include Tour M8, while also increasing the savings percentage of the overall pack and including free shipping. Regular price buying separate: $98.80. Save $13.80 and enjoy Free Shipping when purchasing this Sampler Pack at $85. This is a great chance to get a comprehensive taste of our most popular models! SHOP SAMPLER PACK  
---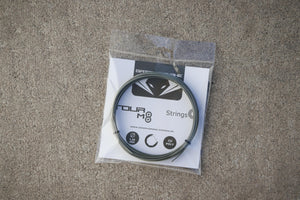 Grapplesnake Tour M8 is available NOW   SHOP TOUR M8   Daniel Gimeno Traver. Highest ATP 48. 
---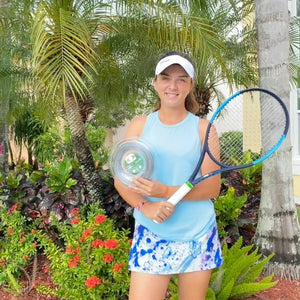 Knowing our sponsored players Laura Buchs "I started playing tennis when is was 8 years old. I instantly fell in love with tennis and playing. One of my achievements are, 3 time state champion in Switzerland, 4th place in the National Swiss tournament, 3rd place national Bulgarian tournament, ranked top 10 in Florida of the age 16's division, and also won multiple American tournaments in all divisions. My dreams are for me one day to become a champion with top ranking and play Roland Garros. I love the Tour Sniper and all the other Grapplesnake strings because it gives me...