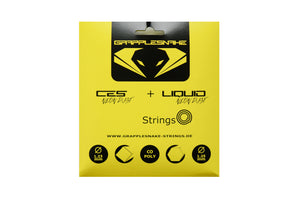 Grapplesnake USA
CES Neon Dust / Liquid Neon Dust - Hybrid Set
Regular price
$11.95
$0.00
Our "flagship" hybrid, CES Neon Dust / Liquid Neon Dust is a high performance dual-polyester set-up, carefully engineered by Grapplesnake Strings with a firm Main string, and a soft Cross. 
CES Neon dust will provide exceptional durability, control and spin, while Liquid Neon Dust will give you touch, feel and more power. The best of both worlds.
Diameters:
- CES Neon Dust: 1.23 mm
- Liquid Neon Dust: 1.25 mm 
Stringing instructions:
- CES Neon Dust (Main): 3 lbs lower than the average polyester. 
- Liquid Neon Dust (Cross): normal polyester stringing tension. 
 12m (6m + 6m) Individual hybrid set
 Approximate string weight with zip ties and no packaging: 24 grams.
2022 Update: Clear packaging and black zip tie for Liquid crosses, white zip tie for CES mains.
---
More from this collection